Hello everyone! It's incredible - it's almost christmas already! The time has gone by so fast. Nothing new here, really. Work, beach, beer basically. And usually we're all so shattered after work that we just end up staying home and watching tv or sitting in front of the computer etc. but that's just normal i guess. Life doesn't have to be extraordinary all the time! And i still like it. (And weekends are usually a bit more interesting!)

Last friday we had a christmas party with everybody at work. We started around 5 o' clock by just sitting in our restaurant, emptying the whole fridge, and then we headed to some other clubs. And oh, we were ALL so drunk -it's not even possible! And the best thing is that the boss paid for the drinks the whole night! Yeah. Dangerous. Today when i started working he just smiled and said to me: "how's my little big drinker doing?" Well what do you expect? I'm finnish for god's sakes! Anyway, i had lots of fun and came back home 6.30 in the morning ha ha! Jenny was just about to leave for work, it was so funny! She had become a bit worried already when she didn't see me anywhere and i didn't even reply to her sms. Well that's cause i lost my phone, too. It's not because i was SO drunk, it's just because of my bag - the damn thing!

Ha and i have to admit that it was a bit horrible on saturday. It was my flatmate hilke's birthday and i had promised to be the punch-master. So, when i got up we had to go to the supermarket straight away to get some bottles of vodka and champagne ohhh.  See i wasn't supposed to drink so much on friday! We had got ourselves vip-passes for a new club here in bondi so the plan was to drink and have fun, how simple is that? But friday ruined everything. Well, i still had fun but wasn't able to get drunk. Oh how difficult one's life can be? i know...

Now i've got three more days to go and then i'm on holidays till the 2nd of january. It's nice though i really enjoy working too.  I've done myself a list of things to do during that time, here's a few examples:
1. go to a museum
2. bake something for christmas
3. see a film on open air cinema
4. have an aussie barbecue (=barbie)
5. go to the zoo
6. get incredibly tanned and get to know all the beaches of sydney
7. party
8. buy flowers
9. eat out
10. see the world's biggest fireworks on new year's eve... sydney harbour!!!

Ok time to go but you enjoy your time wherever you are right now, don't stress too much and profit all the things christmas has got to offer! (mmmm most of all the FOOD!) Five more doors to open on your advent calender! Lots of hugs and love, speak to you soon!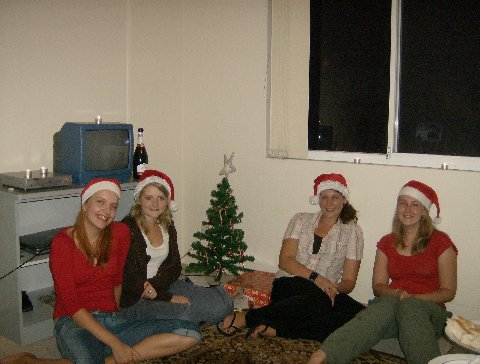 just one of our christmas pictures to start with. And don't laugh to our precious christmas tree, at least we got one! (yes, i know it's a bit small........)